Reversible heat and energy recovery ventilator SOLO
CE mark means that the equipment is produced in compliance with the quality and safety standards provided by EU regulations for the given product type (marked by manufacturer).
Mark of conformity to the European Quality Standards and Electrical Safety issued by Association for Technical Inspection (Technischer Überwachungsverein, Germany).
Insulation class: double insulation.
Applicance protection class.
Mark of conformity to the Ukrainian Quality Standards and electrical safety issued by UkrTEST.
Mark of conformity of the goods subject to obligatory certification in DSTR system as well as technical norms and standards acting in Russian Federation. Confirmed by the RosTEST certificates (Moscow).
Applications
Supply clean fresh air to the premises
Remove stale extract air from the premise
Clean the air of dust and insects
Prevent penetration of excessive humidity and appearance of mould
Protect against outdoor noise
Recover heat and provide humidity balance inside
Reduce the heating costs in winter and air conditioning costs in summer
Low energy demand
Operation logic
Energy is recovered due to reversing operation of the ventilator, which consists of two cycles:
CYCLE I. As warm stale extract air flows through the ceramic heat exchanger, it heats up and moisturizes the heat exchanger. In 70 seconds
as the ceramic heat exchanger gets warmed the ventilator automatically switches to Air Supply mode.
CYCLE II. Fresh, cold intake air from outside flows through the ceramic heat exchanger, absorbs accumulated moisture and is heated to the room temperature. In 70 seconds as the heat exchanger gets cooled down, the ventilator switches to Air Extract mode and the cycle is renewed.
The Air Supply and the Air Extract modes are switched every 70 seconds.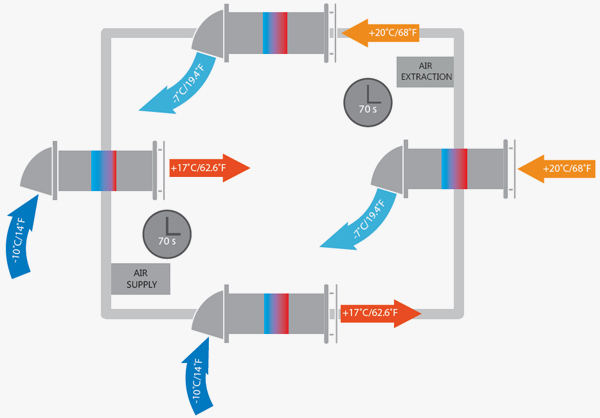 Design
Fan

Air is supplied or extracted by a reversible axial fan with EC motor. Due to EC technology the fan is distinguished with low energy demand.
The motor has overheating protection and ball bearings for longer service life.
Air filters

Two built-in filters with total filter class G3 are used to clean supply and extract air flows. The filters ensure fresh air cleaning of dust and insects and prevent the ventilator parts from soiling. The filters are cleaned either with a vacuum cleaner or flushed with water.
Energy heat exchanger

The high-technology energy heat exchanger is used for extract air heat energy recovery and supply air heating. The Solo RA1-35A-9 R is equipped with the aluminium energy heat exchanger with recovery efficiency up to 75 %. The Solo RA1-35-9 R is equipped with the ceramic energy heat exchanger with recovery efficiency up to 85 %.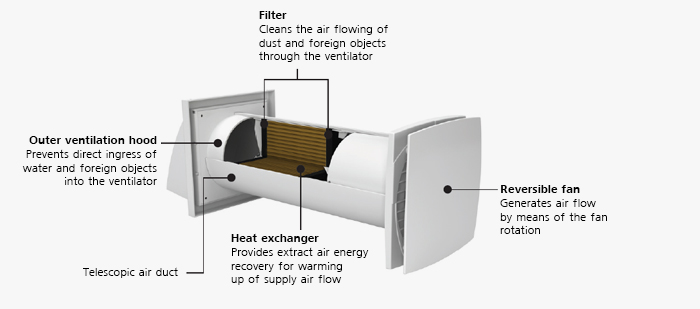 Control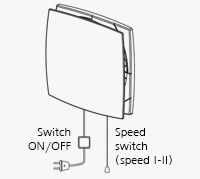 Mounting example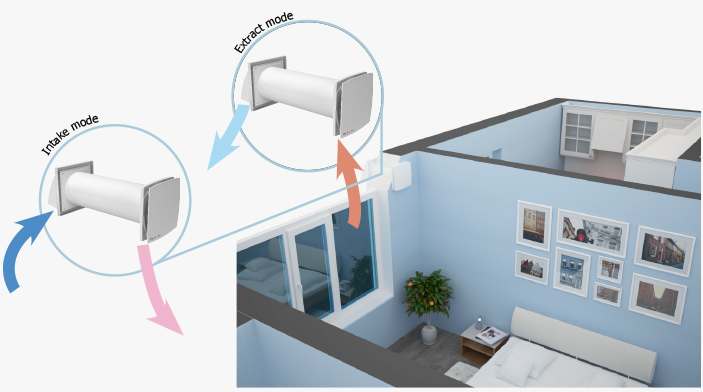 E-mail
Please, feel free to contact us.
Phohe
Customer service.
+380 44 406 36 25
Online form
Send a message center customer support.
Thank your for your time and your wish to improve our site.