Applications
Supply and exhaust ventilation systems for various premises. The fans can be used as components for ventilation and air conditioning units and are suitable for outdoor mounting.
Design
The fan casing is made of steel with polymeric coating. VCUN fan can be supplied both with the clockwise or counterclockwise rotation impeller. Each modification has few scroll positions to enable connection to the air ducts at any angle with 45° pitch distance.
Motor
The impeller with galvanized forward-curved blades is mounted directly on the 2-, 4-, 6- or 8-pole three-phase asynchronous motor shaft. Ball bearings in the motor ensure long service life. For precise features, safe operation and low noise, each turbine is dynamically balanced while assembly. Motor protection rating IP 54.
Speed control
Both smooth or step speed control is performed by means of the autotransformer or frequency controller. Several fans can be connected to one controller in case the total power and operating current do not exceed the rated controller values.
Mounting
The fan is suitable for installation in ventilating chambers, air conditioning units or can be used separately. In case of independent operation it can be connected to air ducts by means of both exhaust and intake branch pipes or exhaust branch pipe only. The exhaust and inlet branch pipes have rectangular or circular sections accordingly. Power is supplied by means of external terminals.
Scroll orientation (view on the intake side)
Right scroll orientation



Left scroll orientation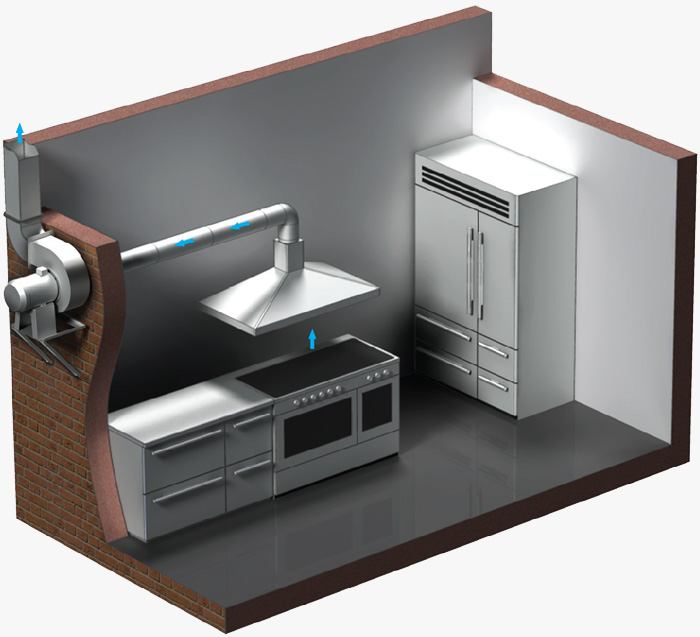 VENTS VCUN fan catering ventilation example
Selection table for accessories:
FVC-VCUN Flange designed to connect round ducts to VCUN fans.

RVC-VCUN Grille designed for fan protection against foreign objects.

Anti-vibration mounts VVCr and VVCp Designed for noise reduction and vibration dampering produced by the fans. Provide dynamic loading decrease and increase reliability and durability of ventilation equipment.

 
 
Anti-vibration mount VVCr
Anti-vibration mount VVCp
Type
 
Rubber
anti-vibration
mounts
 
Spring-loaded
anti-vibration
mounts
 
Flange
 
Grille
VCUN 140х74-0,25-4

 
VVCr 8
 
VVCp 8
 
FVC-VCUN 140
 
RVC-VCUN 140
VCUN 140х74-0,37-2

 
VVCr 8
 
VVCp 8
 
FVC-VCUN 140
 
RVC-VCUN140
VCUN 160x74-0,55-4

 
VVCr 8
 
VVCp 8
 
FVC-VCUN 160
 
RVC-VCUN 160
VCUN 160х74-0,75-2

 
VVCr 8
 
VVCp 8
 
FVC-VCUN 160
 
RVC-VCUN 160
VCUN 180х74-0,55-4

 
VVCr 8
 
VVCp 8
 
FVC-VCUN 180
 
RVC-VCUN 180
VCUN 180х74-1,1-2
 
VVCr 8
 
VVCp 8
 
FVC-VCUN 180
 
RVC-VCUN 180
VCUN 200х93-0,55-4

 
VVCr 8
 
VVCp 8
 
FVC-VCUN 200
 
RVC-VCUN 200
VCUN 200х93-1,1-2

 
VVCr 8
 
VVCp 8
 
FVC-VCUN 200
 
RVC-VCUN 200
VCUN 225х103-1,1-4

 
VVCr 8
 
VVCp 8
 
FVC-VCUN 225
 
RVC-VCUN 225
VCUN 225х103-2,2-2

 
VVCr 8
 
VVCp 8
 
FVC-VCUN 225
 
RVC-VCUN 225
VCUN 240x114-2,2-4

 
VVCr 16
 
VVCp 16
 
FVC-VCUN 240
 
RVC-VCUN 240
VCUN 240х114-3,0-2

 
VVCr 16
 
VVCp 16
 
FVC-VCUN 240
 
RVC-VCUN 240
VCUN 250х127-1,5-6

 
VVCr 16
 
VVCp 16
 
FVC-VCUN 250
 
RVC-VCUN 250
VCUN 250х127-2,2-4

 
VVCr 16
 
VVCp 16
 
FVC-VCUN 250
 
RVC-VCUN 250
VCUN 250х127-5,5-2

 
VVCr 16
 
VVCp 16
 
FVC-VCUN 250
 
RVC-VCUN 250
VCUN 280х127-1,5-6

 
VVCr 16
 
VVCp 16
 
FVC-VCUN 280
 
RVC-VCUN 280
VCUN 280х127-2,2-4

 
VVCr 16
 
VVCp 16
 
FVC-VCUN 280
 
RVC-VCUN 280
VCUN 280х127-5,5-2

 
VVCr 16
 
VVCp 16
 
FVC-VCUN 280
 
RVC-VCUN 280
VCUN 315х143-2,2-6

 
VVCr 26
 
VVCp 26
 
FVC-VCUN 315
 
RVC-VCUN 315
VCUN 315х143-4,0-4

 
VVCr 26
 
VVCp 26
 
FVC-VCUN 315
 
RVC-VCUN 315
VCUN 355х143-2,2-6

 
VVCr 26
 
VVCp 26
 
FVC-VCUN 355
 
RVC-VCUN 355
VCUN 355х143-4,0-4

 
VVCr 26
 
VVCp 26
 
FVC-VCUN 355
 
RVC-VCUN 355
VCUN 400х183-1,5-8

 
VVCr 35
 
VVCp 35
 
FVC-VCUN 400
 
RVC-VCUN 400
VCUN 400х183-2,2-6

 
VVCr 35
 
VVCp 35
 
FVC-VCUN 400
 
RVC-VCUN 400
VCUN 400х183-5,5-4

 
VVCr 35
 
VVCp 35
 
FVC-VCUN 400
 
RVC-VCUN 400
VCUN 450х203-3,0-8

 
VVCr 50
 
VVCp 50
 
FVC-VCUN 450
 
RVC-VCUN 450
VCUN 450х203-4,0-6

 
VVCr 50
 
VVCp 50
 
FVC-VCUN 450
 
RVC-VCUN 450
VCUN 450х203-11,0-4

 
VVCr 50
 
VVCp 50
 
FVC-VCUN 450
 
RVC-VCUN 450
VCUN 500х229-5,5-8

 
VVCr 75
 
VVCp 75
 
FVC-VCUN 500
 
RVC-VCUN 500
VCUN 500х229-7,5-6

 
VVCr 75
 
VVCp 75
 
FVC-VCUN 500
 
RVC-VCUN 500
VCUN 500х229-11,0-4

 
ВVVCr 75
 
VVCp 75
 
FVC-VCUN 500
 
RVC-VCUN 500