Applications
VFED-…-TA series controllers or inverters are designed for frequency control of three-phase asynchronous AC motors. Speed control is effected by means of variation of supplied voltage frequency. Applied for air capacity control of three phase motors.
Design and control
The controller casing is made of flame-retardant thermoplastic. The assembly transforms voltage of 220V, 50Hz supply mains into output impulse voltage with the frequency 3Hz to 400 Hz. Motor rotor is powered with simple sinusoidal current and has the rotation speed as a function of the supplied voltage frequency. Single-phase 220V, 50Hz power is supplied to the frequency controller inlet. Three-phase voltage with the frequency up to 400 Hz for asynchronous motor supply is generated at the controller outlet.
Control by means of external device
Power output variation as a function of the external control signal 0…10V or 4-20 mA over the range set during the controller adjustment. The external device is connected through RS-232 serial port.
Mounting
The controller is designed for indoor mounting. Installation shall be performed with respect to the free air circulation for inner circuit cooling. The controller is for vertical installation. Do not install the controller above the heaters and in bad air convection areas.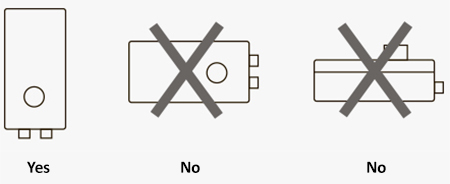 Device operating position