Inline centrifugal sound- and heat insulated fan VENTS VKPI EC series
Centrifugal fans with the air capacity up to 10850 m3/h for rectangular ducts. Designed for supply and exhaust  ventilation systems. Compatible for connection with rectangular air ducts with cross sections 600х300, 600х350, 700х400, 800х500, 900х500, 1000х500 mm.
Products in this series (6)
| Series |   | Flange diameter [WxH] |   | Motor |
| --- | --- | --- | --- | --- |
| VENTS VKPI |   | 600х300, 600х350, 700х400, 800х500, 900х500, 1000х500 |   | EC – synchronous electronically commutated motor  |
| | |
| --- | --- |
| ErP data |   |
| Overall efficiency | η,[%] |
| Measurement category | MC |
| Efficiency category | EC |
| Efficiency grade | N |
| Variable speed drive | VSD |
| Power | [kW] |
| Current | [A] |
| Air flow | [m3/h] |
| Static pressure | [Pa] |
| Speed | [n/min-1] |
| Specific ratio | SR |
Applications
Supply and exhaust ventilation and air conditioning systems for various premises requiring cost-effective solution and controlled ventilation. EC motors in VKP fan reduce energy consumption by 1,5-3 times and ensure high performance and low noise level. Such characteristics are of special importance for ventilation of banks, supermarkets, restaurants, hotels and other public facilities including swimming pool ventilation. The fans are compatible with 600х300, 600х350, 700х400, 800х500, 900х500, 1000х500 mm rectangular ducts.
Design
Fan casing is made of galvanized steel and is heat- and sound-insulated with 50 mm mineral wool layer. All inner components are interconnected by means of rivets. The fan is equipped with 20 mm standard flanges.
Motor
The impellers with backward-curved blades are powered with high efficient electronically commutated (EC) direct current motors with external rotor. As of today, such motor type is the most advanced solution for energy saving. EC-motors are featured by high performance and the optimal control over the whole range of fan speeds. Premium efficiency reaching up to 90% is an absolute advantage of electronically commutated motors.
Build-in functions and control
The fan is controlled with the external control signal 0-10 V (air capacity as a function of temperature level, pressure and smoke conditions etc). Should the control value factor get changed the EC-motor changes its speed and the fan boosts as much air capacity to the ventilation system as required.
Maximum speed of the fan does not depend on the current frequency and it can operate at 50 or 60 Hz mains supply. The fans can be integrated to the unified PC control system. The respective software allows controlling all the fan units with high accuracy and setting particular operation mode for each fan.
Mounting
The fans are mounted into the rectangular ducts and require no special fixing in case of direct connection. In case of connection through the flexible connectors the fan is fixed to a building by means of supports, suspension brackets or fixation brackets. The fans can be mounted in any position with respect to the airflow direction which is indicated with a pointer on the casing. Access for the fan maintenance shall be provided. The casing is provided with the removable access door for inspection and maintenance purposes.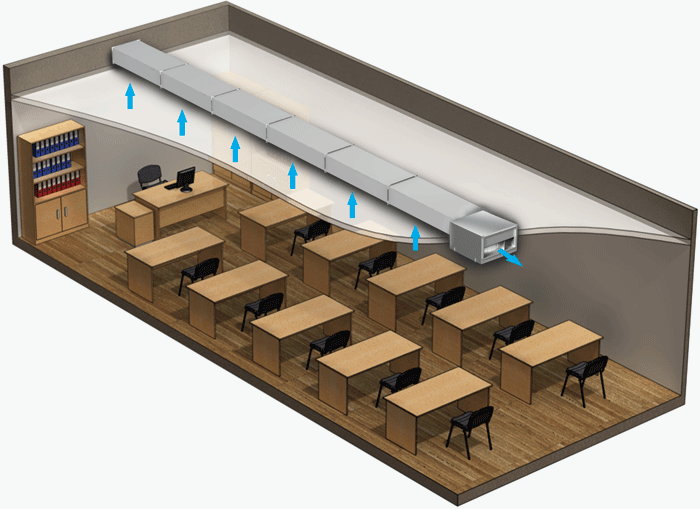 VENTS VKPI EC fan school class ventilation example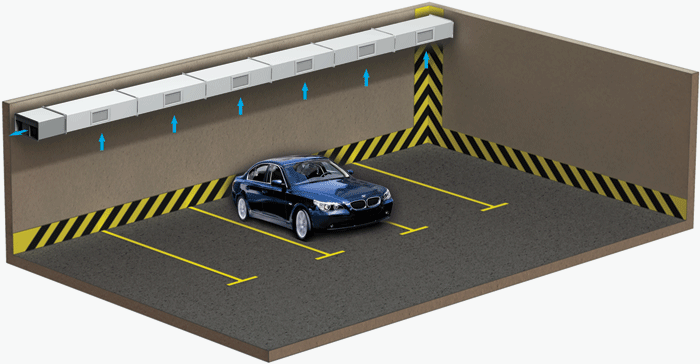 VENTS VKPI EC fan car parking stand ventilation example
E-mail
Please, feel free to contact us.
Phohe
Customer service.
+380 44 406 36 25
Online form
Send a message center customer support.
Thank your for your time and your wish to improve our site.