Application
Used for exhaust ventilation systems in various premises with limited mounting space behind false ceiling. Designed for connection to Ø 100, 125, 150 mm round air ducts.
Design
The fan casing is made of galvanized steel and the decorative front plate is made of ABS plastic and fitted with a filter. The front plate structure ensures easy access to the filter without any tools. The fan is equipped with a backdraft damper to prevent back air flow. The damper blades are opened by air pressure generated by the fan and are closed with a spring.
Motor
Single phase external rotor motor with a centrifugal impeller and backward curved blades. The motor is equipped with built-in overheating protection with automatic restart. The motor ball bearings ensure 40 000 hours service life. For precise features, safe operation and low noise, each impeller is dynamically balanced while assembly. Motor ingress protection rating IP 44.
Speed control
Speed control is performed in smooth or step mode with a thyristor or autotransformer. Several fans may be connected to one speed controller if the total fan power and current do not exceed the rated speed controller parameters.
Mounting
The fan is mounted between the floor framing and false ceiling with brackets. The distance from the floor framing to the false ceiling may range from 165 mm to 390 mm. The fan is connected to power mains through the external terminal block.
Electric connections and installation operations must be in compliance with installation guidelines and wiring diagram.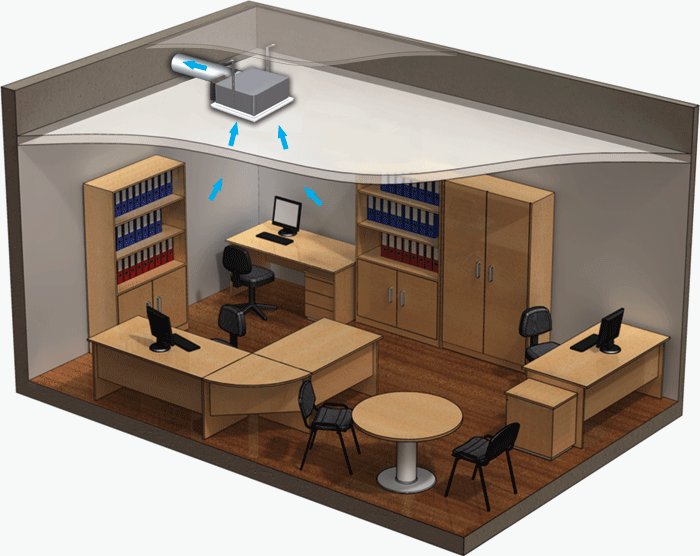 VENTS VP fan office ventilation example