VENTS VUT H air handling units with heat recovery
Sound- and heat-insulated air handling units with an air flow capacity up to 2200 m3/h and heat exchanger efficiency up to 88%. They provide supply of fresh filtered air and extract impure air from the premises. They are compatible with round air ducts with nominal diameters of 125, 150, 160, 200, 250, 315 mm.
Products in this series (6)
| Series |   | Rated air capacity, m3/h |   | Duct connection |
| --- | --- | --- | --- | --- |
| VENTS VUT |   | 350; 500; 530; 600; 1000; 2000 |   | H - horizontal |
Description
Air handling unit VUT H is a complete ventilation units designed for air filtration and supply to the premises and exhaust air removal. During the operation process the extract air heat is transferred to the supply air through the plate heat exchanger. All the models are designed for connection with Ø 125, 150, 160, 200, 250, 315 mm round ducts.
Casing
The casing is made of aluminium profile, double skinned with 20 mm mineral wool heat-and sound-insulating layer.
Filter
Two incorporated G4 panel filters for extract air ventilation and F7 filters for supply air ventilation are supplied with the unit.
Fans
The unit is equipped with supply and exhaust centrifugal double-inlet fans with forward curved blades and built-in thermal overheating protection with automatic restart. The electric motors and impellers are dynamically balanced in two planes. The ball-bearings used with motors are designed for at least 40 000 hours operation and are maintenance-free.
Heat exchanger
The cross-flow air-to-air heat exchanger block is manufactured from aluminum plates. Whenever heat recovery is not required the heat exchanger block can be easily replaced by a "summer" block. The unit is also equipped with the drain pan for condensate water drainage as well as built-in freezing protection system. Its operating principle is based on switching the supply fan off as the temperature sensor requires. Warm extract air heats the heat exchanger. Then the supply fan switches on and the unit continues operating under rated conditions.
Control
The motor speed is controlled by means of 4-step control switch by means of selecting the minimum, average or maximum speed or the unit shutdown.
Offered options to the units
| | |
| --- | --- |
| | |
| SF | VL |
Type
G4 replaceable filter
F7 replaceable filter
Summer block
VUT 350 H
SF VUT 350-600 H G4
SF VUT 350-600 H F7
VL VUT 350 H
VL VUT 500-600 H
VL VUT 500-600 H
VL VUT 500-600 H
VUT 500 H
VUT 530 H
VUT 600 H
VUT 1000 H
SF VUT 1000 H G4
SF VUT 1000 H F7
VL VUT 1000 H
VUT 2000 H
SF VUT 2000 H G4
SF VUT 2000 H F7
VL VUT 2000 H
Mounting
Air handling unit is mounted on the floor and suspended to the ceiling by means of a seat angle with anti-vibration mounts or attached to a wall with brackets. The unit can be mounted either in service spaces or in main premises above the suspended ceiling, in the pocket or can be placed directly in the room. Mounting in any position shall provide correct condensate drainage. Access for the fan maintenance and filter cleaning shall be provided from outside of the side panels.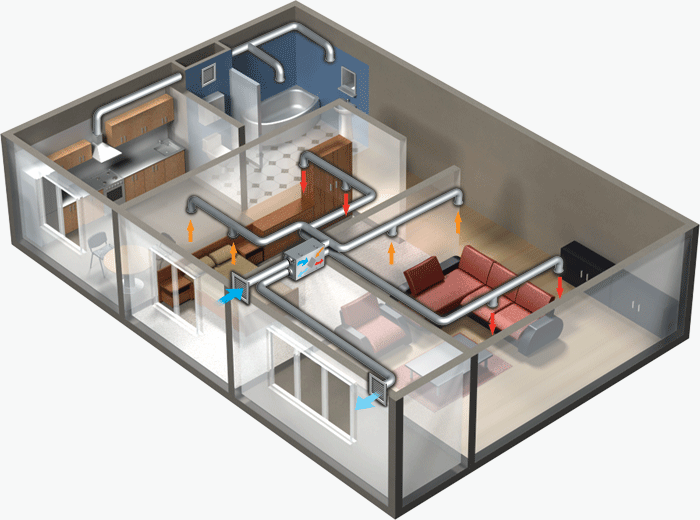 VENTS VUT H unit air exchange example in the flat
E-mail
Please, feel free to contact us.
Phohe
Customer service.
+380 44 406 36 25
Online form
Send a message center customer support.
Thank your for your time and your wish to improve our site.