Description
The suspended air handling units VUT2, VUE2 and VUTE2 250 P EC are the fully-featured ventilation units that ensure air filtration, fresh air supply and stale air extract.
The model VUT2 ensures sensible heat recovery and the models VUE2 and VUTE2 ensure sensible heat and moisture recovery in two plate heat exchangers.
The units are applied as components of ventilation and air conditioning networks for various premises. The units are featured with extremely low noise level due to the fans located between two heat exchangers as well as EC motor technology.
High heat recovery efficiency of the units meets the high energy saving market demands.
Modifications
VENTS VUT2 250 P EC - unit with two plastic cross-flow heat exchangers.
VENTS VUE2 250 P EC - unit with two cross-flow heat exchangers of polymerized cellulose.
VENTS VUTE2 250 P EC - unit with two cross-flow heat exchangers (one made of polymerized cellulose and another made of plastic).
Casing
Made of aluzinc, internally filled with 10 mm cellular polypropylene heat- and sound-insulating layer.
Filter
Supply and extract air flows are purified through two bag filters with filtering class G4.
Fans
High-efficient electronically-commutated motors with external motor and impeller with backward curved blades.
Such motors are the most state-of-the-art energy-saving solution. EC motors are featured with high performance and total speed controllable range. High efficiency reaching 90 % is the premium advantage of the electronically-commutated motors.
Heat exchangers
The units incorporate two heat exchanger types:
The plastic heat exchangers are designed to ensure sensible energy transfer from extract to supply air flow. The heat exchangers are distinguished by long service life in a cold climate.
The heat exchangers of polymerized paper are designed to recuperate both sensible and latent energy. These heat exchangers are frostproof and produce no condensate. The units with polymerized paper heat exchangers are recommended for use in air conditioned premises.
The unit VUT2 250 P EC is equipped with two plastic cross-flow heat exchangers and two drain pans.
The unit VUE2 250 P EC is equipped with two cross-flow heat exchangers of polymerized cellulose.
The unit VUTE2 250 P EC is equipped with two various heat exchangers, one made of plastic and another made of polymerized cellulose. The unit has a drain pan to remove condensate from the plastic heat exchanger.
Unit design: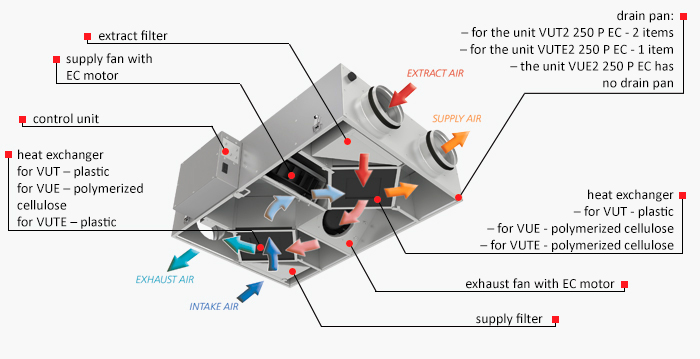 Control and automation
The unit includes integrated automation and a multifunctional control panel А5 with LED indication. The delivery set includes a signalling cable for connection with the control panel. The integrated freezing protection system is designed to prevent the heat exchanger freezing at low temperatures. In case of freezing danger indication by the temperature sensor the supply fan is turned off to let warm extract air flow pass by the heat exchangers and warm them up. After freezing danger is no longer actual, the supply fan is turned on and the unit reverts to the standard operation mode.
Control panel functions:
Turning unit on/off;
Ventilation mode selection: minimum, medium, maximum;
Minimum mode setup in the range of 7 preset speeds. The medium speed is automatically set 80 m3/h above the minimum speed, but it does not exceed the maximum speed.
Filter replacement indication.
Mounting
The unit is designed for suspsnded ceiling mounting in balcony, storeroom, basement, attic and other auxiliary premises. The unit is also suitable for installation in major premises directly to the ceiling, behind the false ceiling or in the ceiling recess. Acess for servicing and cleaning through the bottom panel.
Application examples: