Roof-mounted smoke removal fan VENTS VKDH
Roof-mounted centrifugal fan for smoke removal with horizontal air discharge.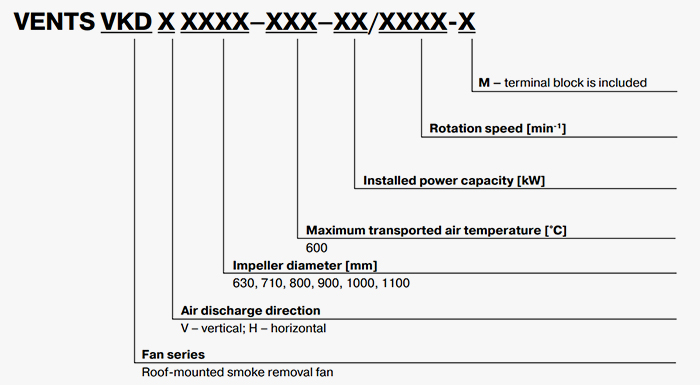 Applications
Used in emergency air extract systems and are designed for mechanical removal of smoke, hot gases and withdrawal of heat outside of the serviced premise in case of fire. Recommended for use in industrial, public, residential, administrative and other premises.
Operation
The fan is rated for removal of smoke and air mixtures up to +600 °C within 120 minutes.
The fan is allowed to use for general exhaust ventilation if the minimum rotation speed is equal to 25% of the maximum air capacity. The fan is designed for operation in moderate and tropical climatic areas.
Design
The fan is made of polymer coated heat-resistant steel that enables its outdoor application and resistance to aggressive media.
The roof-mounted smoke removal fan models are available with horizontal air discharge (VKDH models) and vertical air discharge (VKDV models).
The fan with vertical air discharge is equipped with a backdraft damper. The protecting grille prevents accidental contact and ingress of foreign objects.
Motor
The fan is equipped with a three-phase electric motor rated for connection to 400 V, 50 Hz power mains. The motor is installed in a heat-insulated section and is placed off the transported air flow. The impeller with forward curved blades is made of galvanized steel.
Mounting
The fan is suitable for installation on any roof type. Sufficient service access must be provided for the fan maintenance.
E-mail
Please, feel free to contact us.
Phohe
Customer service.
+380 44 406 36 25
Online form
Send a message center customer support.
Thank your for your time and your wish to improve our site.