VENTS VUT 350 U EC, VENTS VUT 350 EU EC air handling units with heat recovery
| Series |   | Rated air capacity, [m3/h] |   | Heater type |   | Duct connection |   | Motor type |
| --- | --- | --- | --- | --- | --- | --- | --- | --- |
| VENTS VUT |   | 350 |   | E - electric |   | U - versatile |   | ЕС - synchronous electronically commutated motor |
Description
The suspended air handling units VUT 350 (E)U EC are the fully-featured ventilation units that ensure air filtration, fresh air supply and stale air extract.
The thermal heat contained in the extract air is recuperated in the high-efficient plate counter-flow heat exchanger to warm up supply air.
The electric heater in the unit VUT 350 EU EC is provided to warm up supply air.
The units are applied as components of ventilation and air conditioning networks for various premises. The units are featured with extremely low noise level due to EC motors and heat exchangers with high heat recovery efficiency. Compatible with round Ø150 mm air ducts.
Modifications
VUT 350 U EC - unit with an integrated control panel;
VUT 350 EU EC - unit with an external control panel and electric heater.
Unit design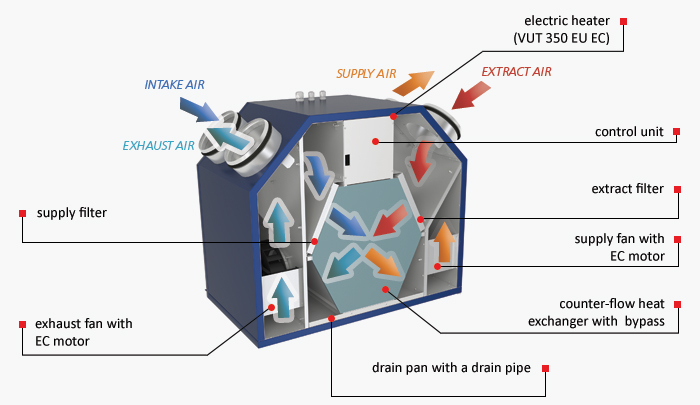 Casing
Made of high-quality polymer coated steel, internally filled with 20 mm mineral wool heat- and sound-insulating layer.
Filter
Supply and extract air flows are purified through two bag filters with filtering class G4. The filters may be easily flushed with water.
Fans
High-efficient electronically-commutated motors with external motor and impeller with backward curved blades.
Such motors are the most state-of-the-art energy-saving solution. EC motors are featured with high performance and total speed controllable range.
High efficiency reaching 90% is the premium advantage of the electronically-commutated motors.
Heat exchanger
Plate counter-flow polystyrene heat exchanger with high heat recovery efficiency. The drain pan under the heat exchanger block ensures condensate removal.
Heater
The VUT 350 EU EC is equipped with an electric heater to warm up supply air up to the comfortable temperature if the set temperature cannot be attained with heat recovery only.
Control and automation
The unit includes integrated automation and a multifunctional control panel with LCD display and remote controller.
The delivery set includes a signalling cable, 10 m long, for connection with the control panel.
The heat exchanger freezing protection operates as follows:
VUT 350 U EC: In case of freezing danger determined by the temperature sensor the supply fan is turned off to let extract air warm up the heat exchanger. After freezing danger is no longer imminent, the unit reverts to the standard operation mode.
VUT 350 EU EC: If air temperature in the intake air duct is below -7 °C the bypass is closed for 5 minutes and supply air is directed along the bypass duct passing by the heat exchanger to let warm extract air warm up the heat exchanger.
Control and protection functions
Turning unit on/off.
Low, medium or high speed selection.
Speed control from 0 to 100%.
Unit weekly operating schedule.
Timer for high speed activation for set period.
Manual opening of the bypass damper.
Turning the heater on/off (only for VUT 350 EU EC).
Supply air temperature setting (only for VUT 350 EU EC).
Active electric heater overheating protection system (only for VUT 350 EU EC).
Heat exchanger freezing protection.
Filter clogging control by motor hours.
Fault indication.
Mounting
The unit is designed for the wall mounting. Access for the unit servicing and filter cleaning on the front panel side.
Application example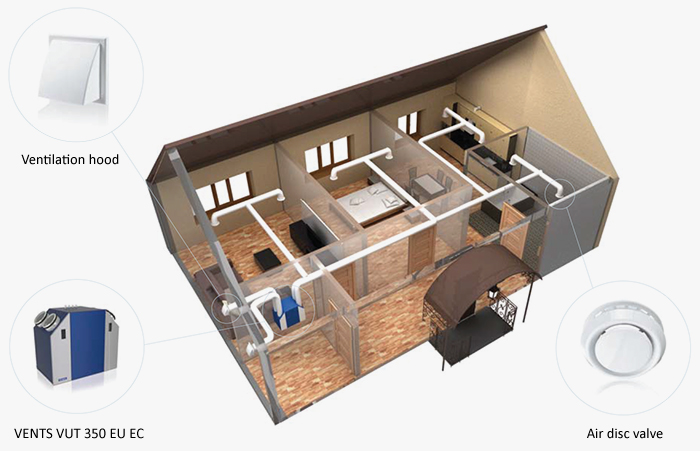 E-mail
Please, feel free to contact us.
Phohe
Customer service.
+380 44 406 36 25
Online form
Send a message center customer support.
Thank your for your time and your wish to improve our site.