Air heating unit VENTS AOE
Air heating unit with electric heater, heating capacity up to 30 kW and the air flow up to 4000 m3/h. Used for cost-efficient and energy-efficient air heating of various premises.
| Series |   | Rated power [kW] |
| --- | --- | --- |
| VENTS AOE |   | 9; 12; 15; 18; 24; 30 |
Application
Designed for air heating in the room with electric heater and air uniform distribution due to an integrated fan and louvre shutters. The air heating units enable quick air heating of large premises or provide local heating of a work zone, for example, in big airplane shed or production facilities.
The air heating units are designed for installation in manufacturing workshops, garages, car showrooms, stock houses, trade facilities, super- and hypermarkets, shops, sport halls, conference halls, poultry and cattle farms, greenhouses and other similar premises.
The unit design enables quick and easy mounting and its operation reduces total investment costs for heating system.
Design
The AOE unit consists of an axial fan and an electric heater enclosed into a steel polymer coated casing.
The electric heater is equipped with two overheating thermostats:
the main overheating protection with automatic reset is activated at +50 °C. After the heater cooling the thermostat closes the heater control circuit.
the alarm overheating protection with manual reset is activated at +90 °C. In case of alarm thermostat activation power supply to the heater is posible after manual alarm reset only.
Fan motor
AC motors with external rotor and built-in thermal overheating protection with automatic reset.
Control and regulation
For safe and correct operation the air heating unit must be controlled with integral control and protection automatic control system to provide the following functions:
automatic power and heating temperature adjustment;
power supply cut-off to the heater in case of the fan shutdown, low air flow or if integrated motor overheating thermostats are activated;
air supply to the electric heating elements for heating removal after shutoff of the heating unit;
power supply to the heater via an integrated automatic circuit breaker with tripping current depending on the heater power.
The heating unit operation modes are controlled from UET-15D or UET-30D (available upon separate order) control unit.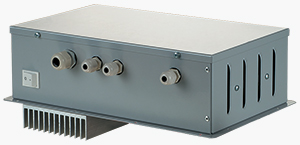 Air flow temperature is controlled by the heater on/off switch time (full heating power) in compliance with a set heating point. The control unit controls the fan speed and cuts off power supply to the heater in case of the fan shutdown or very low air flow.
The control unit is designed for joint operation with digital TST-1-300 thermostats with sensor display (TSTD-1-300 model is equipped with a remote controller) or RTS-1-400 with LCD display (RTSD-1-400 is equipped with a remote controller). The thermostats are available on separate order. The thermostat is designed for indoor installation in the room heated by the air heating unit to determine its operation mode. The thermostat installation place must not be influenced by windows, doors and heating radiators. One thermostat is capable to control several connected air heating units in one room (max. 10 AOE units per each thermostat).
Advantages of air heating:
quick temperature increase in the room up to set point;
low inertance of the system allows to provide alternating heating mode or heating in some zones;
high heating efficiency;
capital investments for air heating system is much less as compared to the similar water heating system.
Accessory selection table:
Air heating unit model
Control unit
Digital thermostat
Mounting accessories
 
 
with sensor display
with LCD display
Mounting angles
Mounting brackets
Multi-angle bracket
АОЕ 9
UET-15D
TST-1-300
TSTD-1-300
RTS-1-400
RTSD-1-400
MKP-AOW
MK-AOW 25
MKU-AOW 25
АОЕ 12
АОЕ 15
АОЕ 18
UET-30D
MK-AOW 45
MKU-AOW 45
АОЕ 24
АОЕ 30

Warm air distribution

Mounting
The air heating unit is suitable for vertical installation on the walls (beams) or horizontal installation on the ceiling (beams).
WARNING!
While mounting AOE units provide free air supply to the fan suction vent by keeping the minimum distance from the units to the wall or ceiling 300 mm.

E-mail
Please, feel free to contact us.
Phohe
Customer service.
+380 44 406 36 25
Online form
Send a message center customer support.
Thank your for your time and your wish to improve our site.