VENTS MPA…W series supply units
Sound- and heat-insulated fan units with the air capacity up  to 6500 m3/h are designed to provide fresh filtered air to premises. For operation of the units during low outside temperatures water heating coils are installed. Compatible with 400х200, 500х250, 500х300, 600х300, 600х350 and 800х500 mm rectangular air ducts.
Products in this series (7)
Series
 
Rated air flow, m3/h 
 
Phase
 
Heater type
 
Integrated control system
VENTS MPA

 
800, 1200, 1800, 2500, 3200, 3500, 5000
 
1 - single phase;
3 - three phases
 
W - water
 
_ - no control system
LCD - integrated automation with A13 control panel
Description
Air supply MPA unit is a complete ventilation unit for air filtration, air heating and supply to premises. Compatible with 400х200, 500х250, 500х300, 600х300, 600х350 and 800х500 mm rectangular air ducts.
Casing
Steel casing covered with aluzinc coating internally filled with 25 mm heat- and sound-insulating layer made of mineral wool.
Filter
Integrated panel G4 filter ensures sufficient supply air purification.
Heater
Water/glycol heaters are used for heating of supply air in cold season. Tubular heating elements of the electric fan heater are ribbed to increase the heat exchange surface area and heat transfer to supply air. The water heaters are designed for max. operating pressure 1.0 MPa (10 bar) and max. operating temperature 95 °C of the heat medium.
Fan
Centrifugal double-inlet fan with forward-curved blades and built-in overheating protection with automatic restart. The fan motor and impeller are dynamically balanced in two planes. The ball bearings in the electric motor are maintenance free and designed for at least 40000 hours operation.
Control and automation
Two options for supply unit modifications are possible:
No control. Customer-defined and customer-selected automation system.
Integrated control and automation system for three-speed (air capacity) control and setting supply air temperature. The unit may be controlled from the external control panel fixed on 10 m wire delivered as a standard.
MPA...W control and protection functions
switching the unit motor on/off;
three-speed fan selection;
maintaining set supply air temperature by means of controlling the circulating pump and heat medium regulating valve;
water heater freezing protection by the temperature sensor at outlet from the heating coils and the return heat medium temperature sensor;
control and regulation of the external circulation pump installed at the heat medium supply line to the water heater (mixing unit pump);
control of the compressor and condensing unit of the water cooler by the room temperature sensor (for the models equipped with a duct air cooler);
supply fan control and regulation;
filter clogging control;
actuating the external air damper with a return spring;
unit shut down at signal from the fire alarm system.
The mixing units USWK are recommended for smooth supply air temperature regulation in the units equipped with water heaters. The mixing unit USWK with three-way heat medium regulating valve and circulation pump provides smooth heating capacity regulation and minimizes the water heater freezing danger.
Mounting
The supply unit can be mounted on the floor, suspended to the ceiling by means of a seat angle with a flexible connector or fixed to the wall using brackets. The unit can be installed either in such service spaces as balcony, storeroom, basement, roof space or in main premises above the suspended ceiling, in the pocket or placed directly in the room. The unit can be mounted in any position but the vertical one with air downstream because the heating elements are not allowed under the fan. Access for the unit maintenance and filter cleaning shall be provided.
Accessories to supply units:
| | |
| --- | --- |
| | |
| SFK | SF |
Type
Replaceable filter
Filter type
MPA 800 W
SF MPA 800/1200 G4
panel filter
MPA 1200 W
MPA 1800 W
SF MPA 1800/2500 G4
panel filter
MPA 2500 W
MPA 3200 W
SF MPA 3200/3500 G4
panel filter
MPA 3500 W
MPA 5000 W
SFК MPA 5000 G4
pocket filter
Office ventilation example
Air supply and exhaust ventilation in modern office can be arranged as follows. Air handing MPA unit, exhaust fan complying with MPA unit characteristics, intake and exhaust main air ducts are mounted in the hall behind the suspended ceiling. The branchings are laid into the office premises and air distribution units. Fresh air is extracted from outside through the external grille, filtered in the air handling unit, heated to the required temperature and supplied to the office rooms through the branch duct system. Exhaust air is extracted outside through the external grille by means of the exhaust fan. Thus the office has the permanent fresh air supply, controllable air exchange, no draughts when opened windows, no dust and no noise.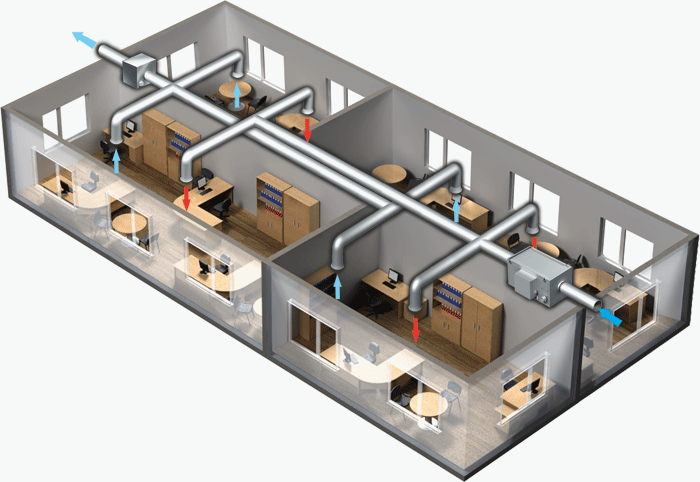 VENTS MPA unit office air exchange example
E-mail
Please, feel free to contact us.
Phohe
Customer service.
+380 44 406 36 25
Online form
Send a message center customer support.
Thank your for your time and your wish to improve our site.