VENTS VA series exhaust units
Compact suspended sound-insulated fan units with the air capacity up  to 4450 m3/h are designed to provide exhaust air removal from premises. Compatible with 400х200, 500х300, 600х350, 600х350, 700х400 mm rectangular air ducts.
| Series |   | Unit standard size |
| --- | --- | --- |
| VENTS VA |   | 01; 02; 03; 04 |
Description
The unit VA is a fan-filter block enclosed in a compact sound-insulated casing. The VA unit provides high pressure combined with low energy demand due to the impeller with backward curved blades. The unit is suitable for supply and exhaust ventilation applications.
Casing
Steel casing covered with aluzinc coating internally filled with 50 mm heat- and sound-insulating layer made of mineral wool.
Fan
The units are equipped with a high-pressure radial fan directly driven from the external rotor motor with backward curved blades. The fan motor has integrated thermal contacts for connection to an external protecting device.
Filter
The unit is suitable for use both with and without filter as a simple fan. The replaceable filter block is an optional item and is not included into the unit delivery set. All the units may be equipped with a replaceable G4 panel filter, refer Accessories.
Mounting
The unit is mounted to the air duct in any position. The unit is suitable for installation in utility and main premises behind the false ceiling, in the recess or directly in the room.The fan electric contacts are leaded to the terminal block located in the terminal box.
Accessories to supply units: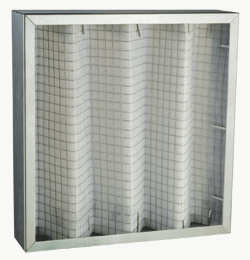 SF
| Type | Replaceable filter | Filter type |
| --- | --- | --- |
| VА 01 | SF PА/VA 01 Е G4 | panel filter |
| VА 02 | SF PА/VA 02 Е G4 | panel filter |
| VА 03 | SF PА/VA 03 Е G4 | panel filter |
| VА 04 | SF VA 04 Е G4 | panel filter |
Accessories
The fan speed is controlled by the external triac, autotransformer or frequency three phase speed controller, refer RSA, VFED). To disable uncontrollable air flow when the fan is off and in case of power failure it is recommended to install the air damper with a return spring from outside behind the unit. For attenuation of sound generated by the fan it is recommended to install the duct silencer (refer SR) from inside before the unit. For vibration absorbing it is recommended to install the flexible anti-vibration connectors (refer VVG) on both sides of the unit. For control of the filter clogging degree it is recommended to install the differential pressure switch (refer DTV 500).
E-mail
Please, feel free to contact us.
Phohe
Customer service.
+380 44 406 36 25
Online form
Send a message center customer support.
Thank your for your time and your wish to improve our site.