ONK series single-row grilles with fixed vanes, sectional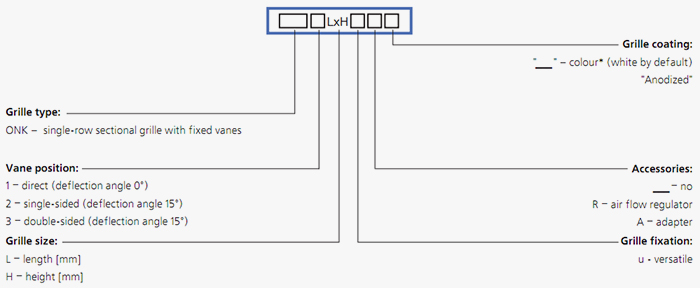 Application
Supply and exhaust ventilation, heating and air conditioning networks in industrial, commercial and domestic premises.
Design
Made of high-quality extruded aluminium.
Equipped with a central cross-type partition for extra rigidity.
Polymer or anodized grille coating ensures weather-resistant properties.
Non-standard sizes may be ordered.
Modifications
Available modifications with an air flow regulator ( R) and an adapter (A) for connection to air ducts.
Available modifications with versatile fixing (u) for fast mounting.
| | |
| --- | --- |
| | |
| ONK2 – pair-wise and perpendicular vane position | ONK1, ONK3 – horizontal vane position |
Air flow distribution options
straight (0°)
ONK1, ONK2

single-sided (15°)
ONK3
E-mail
Please, feel free to contact us.
Phohe
Customer service.
+380 44 406 36 25
Online form
Send a message center customer support.
Thank your for your time and your wish to improve our site.