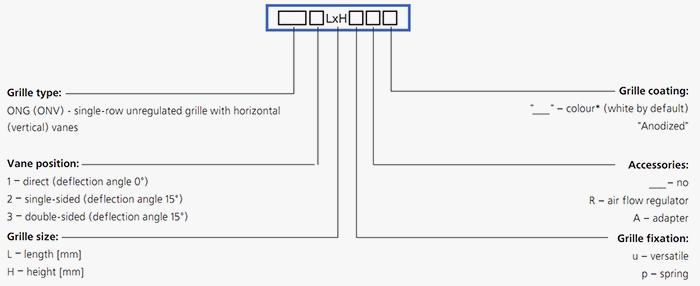 Application
Supply and exhaust ventilation, heating and air conditioning networks in industrial, commercial and domestic premises.
Design
Made of high-quality extruded aluminium.
Polymer or anodized grille coating ensures weather-resistant properties.
Non-standard sizes may be ordered.
Modifications
Available modifications with an air flow regulator (R) and an adapter (A) for connection to air ducts.
Available modifications with versatile fixing (u) or with special springs (p) for fast mounting.
Air flow distribution options
straight (00)
ONL1

single-sided (150)
ONL2

double-sided (2х150)
ONL3
E-mail
Please, feel free to contact us.
Phohe
Customer service.
+380 44 406 36 25
Online form
Send a message center customer support.
Thank your for your time and your wish to improve our site.