Outer ventilation hood MVVM 162
Products in this series (5)
Application
The outer hood is designed to prevent ingress of water and large objects into the ventilation equipment from outside.
Pre-installed with a hood the air duct is mounted in a core hole drilled in the wall. The installation is done from inside.
Special design allows installation of the hood by the operator on a wall of high-rise buildings and enables airtight sealing of the air duct in the core hole.
Design
Made of high-quality incombustible ultraviolet resistant plastic.
Fixation at the end of the air duct with latches.
The air duct with diameter of 160 mm is made of high-quality PVC plastic.
The ventilation hood [1] is equipped with a silicone sealing ring [2] that provides high sealing integrity of the air duct [3] in the core hole in the wall.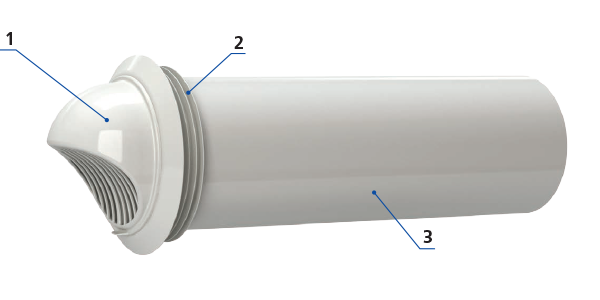 Mounting
Drill a core hole with a diameter of 180 mm in the wall.
Insert the hood into the wall core hole and push it until the sealing ring appears on the outer side.
Pull the hood in the opposite direction so the silicone sealing ring provides tight seal between the hood and the wall.
The air duct must be fixed in the wall core hole using mounting foam.

E-mail
Please, feel free to contact us.
Phohe
Customer service.
+380 44 406 36 25
Online form
Send a message center customer support.
Thank your for your time and your wish to improve our site.