Axial fan VENTS OV1 series
Low pressure axial fans in steel casing with the air capacity up to 1700 m3/h for wall mounting on a square mounting plate.
Products in this series (8)
Series and modification
 
Dimension type
VENTS OV1 - square mounting plate
 
150 - branch pipe ø 162 mm
200 - branch pipe ø 208 mm
250 - branch pipe ø 262 mm
315 - branch pipe ø 312/315 mm 
Applications
Combined supply and extract ventilation systems for various premises where high air capacity at relatively low system resistance is required. OV1 fans can be used for the direct exhaust of air. OV1 fans can be mounted onto the external walls.
Design
OV1 fan casings are made of steel with polymeric coating. The terminal box is fitted with a cord for remote connection.
Motor
Single-phase asynchronous motor is equipped with thermal overheating protection with automatic restart as well as ball bearings for long service life. Motor rating protection IP 44.
Speed control
Both smooth and step speed control is performed with the thyristor or autotransformer controller. Several fans can be connected to one controller in case the total power and operating current do not exceed the rated controller values.
Mounting
The fan is installed on the wall surface by means of square mounting plate. The fan is powered through the remote terminal box.
Power supply and installation shall be performed in compliance with the manual and wiring diagram on the terminal box.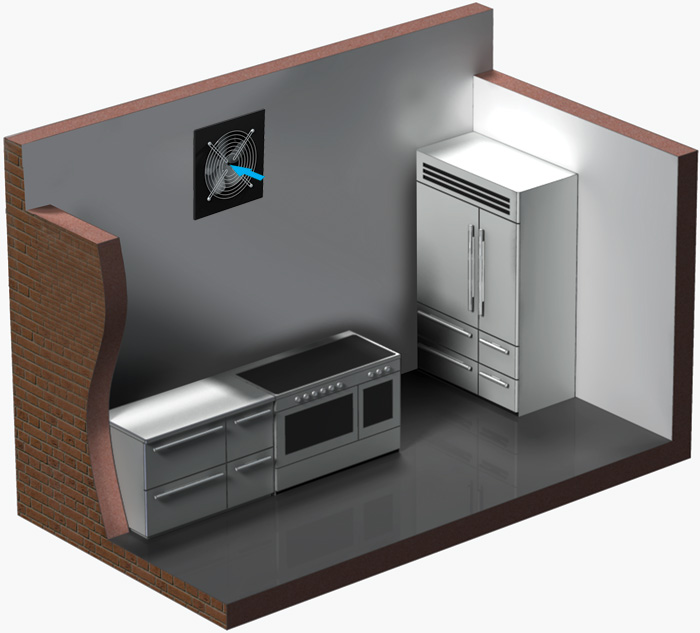 VENTS OV1 fan kitchen ventilation example
E-mail
Please, feel free to contact us.
Phohe
Customer service.
+380 44 406 36 25
Online form
Send a message center customer support.
Thank your for your time and your wish to improve our site.