Supply and exhaust metal door grilles MVMA series
Color scheme
Beige RAL 1015
Black RAL 9005
Blue RAL 5005
Brown RAL 8017
Grey RAL 7001
White RAL 9016
| Designation | | Modification description |
| --- | --- | --- |
| MVMA…An |   | grilles from anodized aluminium. |
| MVMA…«colour code» |   | colourful polymer painted models. |
| MVMA …s |   | models from aluminium with a protecting insect screen. |
| MVMA…s An |   | models from anodized aluminium and a protecting insect screen. |
Application
Mounting in door leaves of bathrooms, kitchens, etc.
Suitable for installation into window sills for correct warm air distribution from radiators.
Used to arrange correct air circulation in premises.
Design
Made of polymer-coated or galvanized steel and are suitable for painting in various colours.
Fixing with lugs.
Modifications with a protecting insect screen are available.
Minimum door leaf thickness is 32 mm.
Mounting example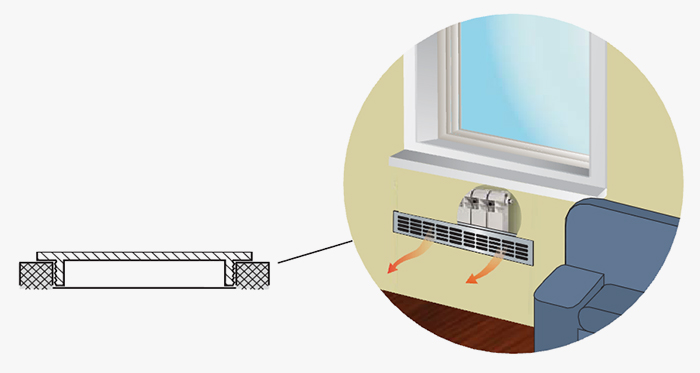 E-mail
Please, feel free to contact us.
Phohe
Customer service.
+380 44 406 36 25
Online form
Send a message center customer support.
Thank your for your time and your wish to improve our site.