VENTS TT Silent-MD EC series  

new series
Inline mixed-flow fans in soundand heat-insulated casing with the air capacity up to 8920 m3/h.
Products in this series (4)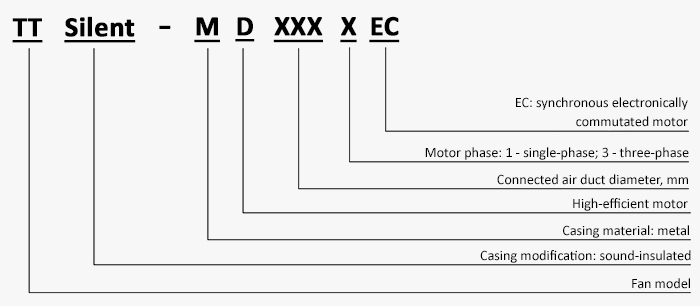 | | |
| --- | --- |
| ErP data |   |
| Overall efficiency | η,[%] |
| Measurement category | MC |
| Efficiency category | EC |
| Efficiency grade | N |
| Variable speed drive | VSD |
| Power | [kW] |
| Current | [A] |
| Air flow | [m3/h] |
| Static pressure | [Pa] |
| Speed | [n/min-1] |
| Specific ratio | SR |
Application
New inline VENTS TT Silent-MD EC fans are enclosed in a specially designed sound-insulated casing that ensures low-noise operation combined with high aerodynamic characteristics. The fans are compatible with Ø 355, 400, 450 air ducts. VENTS TT Silent-MD EC combine wide capabilities and high performance features of both axial and centrifugal fans, thus providing powerful air stream and high pressure. The fans are used as a component part of air handling systems for various commercial and industrial premises with high requirements to noise level, i.e. in libraries, conference halls, educational institutions, kindergartens, etc.
Design
The fan casing is made of polymer-coated steel. The inner casing perforation let sound waves pass through the holes and fall at a specific angle to the sound-absorbing layer. The casing is internally heat- and sound-insulated with mineral wool. The specially perforated casing and sound-absorbing material provide sound attenuation in a broad frequency band. The conic impeller with special blade profiling increase air flow speed and provide higher pressure and air capacity as compared to standard axial fans. The diffuser, the specially profiled impeller and the directing vanes at outlet from the fan casing distribute air flow in such a way as to attain the best combination of high performance and high pressure at low noise level. The fan casing is equipped with an airtight terminal box for connection to power mains.
Motor
High-efficient electronically commutated direct current motor. Such motors are the most stateof-the-art energy saving solution. EC motors are
featured with high performance and total speed controllable range. High efficiency reaching 90% is the premium advantage of the electronically-commutated motors.
The motors are equipped with ball bearings designed for at least 40 000 operating hours. For precise features, safe operation and low
noise, each impeller is dynamically balanced during assembly. Motor ingress protection rating IP 44.
Speed control
The fan is controlled with an external 0-10 V control signal. The fan capacity is regulated depending on temperature and pressure level, smoke content, etc. The rotation speed of the EC motor changes proportionally to fluctuations of the control parameter and the fan delivers a required air volume to the ventilation system.
Maximum fan speed does not depend on the current frequency. The fan is compatible both with 50 or 60 Hz power mains. The fans may be integrated into a unified data processing control system. The specially designed software provides precise control of all the fans integrated into the system. The computer displays all the system parameters. Each fan in the system may be individually adjusted.
Mounting
The fan may be mounted at any place and at any angle within the ductwork system. Several fans may be installed in one system in parallel to
attain higher air capacity or in series to increase operating pressure in the system. The fan casing is equipped with fixing brackets for fastening to the floor, wall.
E-mail
Please, feel free to contact us.
Phohe
Customer service.
+380 44 406 36 25
Online form
Send a message center customer support.
Thank your for your time and your wish to improve our site.