VENTS VUT R WH ЕС
Air handling units with heat recovery with the air capacity up to 1500 m3/h in sound- and heat insulated casing with integrated water heater and rotary heat exchanger. Recuperating efficiency up to 85%.
Products in this series (5)
Series
 
Heat exchanger type
 
Rated air capacity [m3/h]
 
Heater type
 
Duct connection
 
Motor type
 
Control
panel
VENTS VUT

 
R - rotary regenerator
 
400; 700; 900; 1200; 1500
 
W - water
 
H - horizontal
 
EC - synchronous electronically commutated motor
 
А13
Description
The air handling units VUT R WH EC with an integrated water heater are the ready-to-use ventilation units that provide air filtering, supply of fresh air to the premises and exhaust of stale extract air from the premises with synchronous thermal energy transfer from extract air flow to the supply air flow through the rotary heat exchanger. The VUT R models are used in ventilation and air conditioning systems installed in various premises that require reasonable energy saving solutions and controlled ventilation systems. EC motors reduce energy demand by 1.5-3 times and ensure high performance and low noise operation. All the models are designed for connection to Ø 160, 250 and 315 mm round air ducts.
Modifications
VUT R WH EC – models with water (glycol) heater.
Casing
The casing consists of a frame and three-layer 20 mm (VUT R 1500 – 25 mm) thick panels made of zinc aluminium internally filled with mineral wool for reliable heat- and sound-insulation.
Due to the specially designed removable side panels the unit requires little space for servicing and accessing to all the unit components.
Filter
The unit has two filters G4 to filtrate intake and exhaust air. The unit can be supplied with F7 Intake filter (option).
Motor
The units are equipped with high-efficient direct current electronically-commutated (EC) motors with external rotor and backward curved impeller blades. Such motor design is the most progressive solution in energy saving. EC motors are featured with high performance and well controllable speed range. Premium efficiency reaching 90% is a definite advantage of electronically commutated motors.
Rotary regenerator
The rotary regenerator is a rotating short cylinder internally filled with corrugated aluminium band placed in such a way as to ensure passing of the supply and exhaust air streams through the rotary regenerator to exclude their direct contact. During rotation the band first comes in contact with supply air stream and then with extract air stream. The aluminium band is heated up and cooled down by turns and transfers the heat and moisture contained in the warm extract air to cold intake air stream from outside. As compared to a standard plate heat exchanger the rotary regenerator is featured with higher efficiency, ability to maintain indoor humidity and extremely low freezing danger which is nearly excluded in rated temperature and humidity conditions.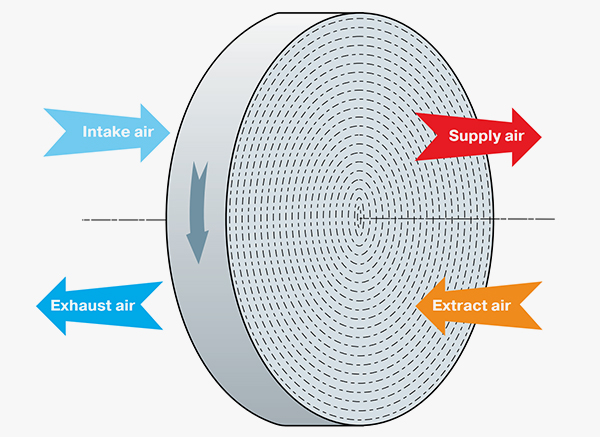 Rotary regenerator operating logic
Heater
Water heaters are used for application of the air handling unit at low outdoor temperatures. If heat recovery is not sufficient to reach the set supply air temperature, the air heater is turned automatically on and warms up the supply air flow. The heaters are equipped with protecting devices to ensure safe and reliable operation of the unit. The water heaters are designed for max. operating pressure 1.0 MPa (10 bar) and max. heat medium operating temperature +95 °C.
Control and automation
The unit is equipped with a built-in automation system and a multifunctional sensor control panel.
The standard delivery set includes a 10 m cable for connection to the control panel.
VUT R WH EC automation functions:
turning the unit on and off according to set parameters;
week-scheduled operation;
setting of the required supply air temperature and air flow with an external control panel;
regulation of air control dampers;
filter clogging degree;
supply air temperature control by means of actuating the three-way valve;
circulating pump control;
water (glycol) heater freezing protection based on air temperature sensor after the heater and on return medium thermostat.
Mounting
The unit is designed for mounting to a horizontal plane, suspension to a ceiling or wall mounting by means of brackets. Service access must be provided on the side panel side, on the left from the supply air stream. The water heater pipes on the VUT R WH EC unit are leaded to the service side, on the left from the supply air stream.
E-mail
Please, feel free to contact us.
Phohe
Customer service.
+380 44 406 36 25
Online form
Send a message center customer support.
Thank your for your time and your wish to improve our site.