DG1 series  

new series
Access doors for plasterboard applications.
Products in this series (5)
Applications
Designed for plasterboard walls and ceilings 12.5 and 15 mm thick.
Enable quick and convenient access to concealed equipment and utility lines.
Suitable for high-humidity areas.
Protected by national patents worldwide.
Design
The main structural frame and panel frame are made of aluminum profile.
The door is designed with a special efficient locking device to prevent accidental door opening during inspection operations.
Left or right-side opening.
Press gently to open and close.
A wide range of sizes.
Custom sizes are available upon request.
Mounting
The doors are attached to aluminum profiles on self-tapping screws and flushed up with plasterboard on the front.
Universal mountings for left or right-side opening.
Easy servicing.
Sample Installations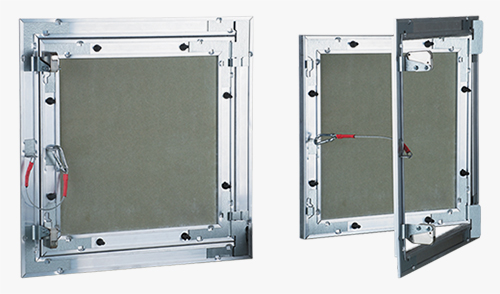 E-mail
Please, feel free to contact us.
Phohe
Customer service.
+380 44 406 36 25
Online form
Send a message center customer support.
Thank your for your time and your wish to improve our site.